Anthony Joshua v Andy Ruiz: world heavyweight boxing rematch – live!
World title rematch in Saudi Arabia, due 9pm GMTToo many heads remain in the sand with hosting of sportAnd you can email Tom or tweet him @tom_lutz 9.06pm GMT Joshua is first out as the challenger in a white robe. No entourage for the Briton...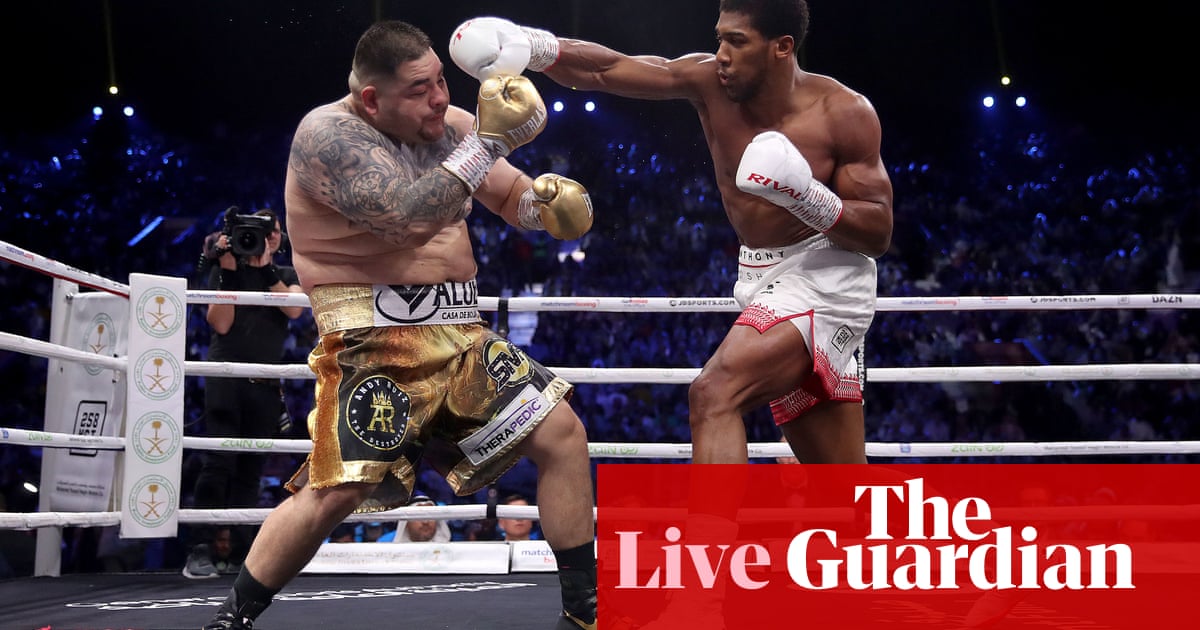 Joshua is first out as the challenger in a white robe. No entourage for the Briton - he strolls in on his own like it's his day off. Maybe an early sign to the audience that tonight is about the fight, and not the sideshow - a criticism levelled at him after the last fight.
The elephant in the room, of course, is the setting of tonight's event. Tonight's card is taking place amid mounting criticism from Amnesty International that taking around $80m from a kingdom that has an "abysmal" human rights record, including jailing and executing opponents, is morally bankrupt. (And that's putting aside the four fighters on the card with a history of testing positive for performance-enhancing drugs.)
Felix Jakens, Amnesty International UK's head of campaigns, made his organisation's feelings on the fight - and its venue – clear. "The fight is pure sportswashing and that's why it's so important to challenge the Saudi propaganda machine and its increased use of sport to gloss over its abysmal human rights record," he said.
"Not necessarily," Joshua said. "I just came here for the boxing opportunity. I look around and everyone seems pretty happy and chilled. I've not seen anyone in a negative light out here, everyone seems to be having a good time."
Joshua also appeared to not know what Amnesty International was when told the human rights organisation wanted him to research and speak out about problems in the country.
Continue reading...